Client Comments
Company Information
Below is a selection of a few of our clients comments from around the world!
Also: check our Trips around Brazil & South America
---
We got back last week, and I've been catching up with work since then! I was going to send you a note to tell you how pleased we were with your services and arrangements. Everything you organized ran smoothly, and all of the drivers, guides, and interpreters were prompt, helpful, and friendly.
We had no problems with any of the tours, and found the Continental Inn especially accommodating and helpful with our requests and schedule. The Agua Azul in Bonito was a little lower scale than we would have preferred, but it was fine. And, the pousada in the Pantanal was very friendly and warm, with a great staff and amazing food.
You were right about the routes you suggested, though the interpreter at the pousada in the Pantanal suggested we take the more direct route to Bonito, which was very difficult to maneuver. I didn't realize how bad the roads could be; no one should drive that without a 4x4 and local knowledge. Also, even the roads in and around Bonito were also much worse that we realized they would be. In retrospect, between the road conditions, poor signage, and possibility of breakdowns or accidents in a country we weren't familiar with, I don't know that driving was a very good idea. Fortunately, everything turned out well.
Overall, all of your help, answers, advice, and professionalism were amazing. It was nice to know that the things you had organized were all taken care of and that we didn't have to worry about things during those parts of our trip. I really appreciate your taking the time to think through when we needed an interpreter, and setting that up as well.
We rarely use travel agents since we are fairly independent travelers, but I am very glad we found you as you helped us to arrange a trip that we would not have been able to otherwise. I will definitely recommend your services to anyone looking to travel in Brazil.
Thank you!
Vivian
---
Our trip in Brazil was extremely good, we really enjoyed and had a nice time.
The guides were really nice and helpful. The only thing our five stops flight from Manaus to Salvador, it took 9 hours,
and it was really tiring. I believe, after Iguaçu it could be more reasonable fly to Salvador, and Manaus because USA
is much closer, we lost 2 days with flying, but anyway it was a great experience, next time I will be more organized,
we arranged everything at the last day with you, and it was a great break, thank you so much.
Gunnur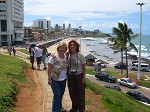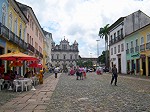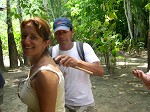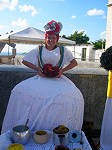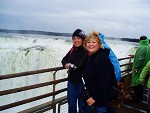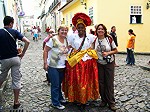 ---
We both had an amazing time and were very impressed with your organisation and support. When looking for a tour operator we wanted to make sure that we'd always have flexibility and you certainly provided that.
The tips and recommendations you made were spot on and definitely made our holiday more enjoyable. Throughout the trip we felt confident that the transfers and excursions were booked. I especially loved my time in the Amazon and would definitely plan to go back again (if not least to bring back some photos!!).
Your assistance with changing the bookings at short notice (due to the lost passport) was greatly appreciated and helped to alleviate the stress!!
I would recommend you to all my friends and hope to be able to book with you again in the future.
Best Regards
From Jason Wickens, UK
---
Tatiane,
We got back from our cruise yesterday and I wanted to write and let you know what a great time we had on the tours you organized for us. All of the arrangements went smoothly and we loved our guides Daniel (in Rio) and Valdir (in Iguazzu). Thanks for your help in making this trip our best ever!
Shari, Griffith and Patti (USA)
---
Dear James,
I am back home from a wonderful trip in Brazil, organized by your agency, where I visited Rio de Janeiro, Foz do Iguazu, Amazonas (Acajatuba) and Salvador. This was definitely my best holidays ever.
I was fascinated by this beautiful country and the friendly people. The highlight of the trip was Amazonas which I hope I will be able to visit again some day. Everything you organized was perfect and I must say I like this way of traveling very much. I have already started planning my next trip to South-America and I am especially interested in Peru, the Inca Trail and maybe some other interesting places. I saw on your website that you are offering tours in Peru, among them the Inca trail. Could you perhaps give me some idea of the price of that tour and maybe recommend some other interesting places in Peru?
Thanks a lot for a wonderful trip.
Best regards,
Kristiana, Iceland
---
Hi James,
How are you doing?
Jerry and I would like to thank you and the Brasil Travel agents for the great time you've given us while taking the trip to Pantanal and the Amazon. Travel arrangement where excellent, without a single glitch; we felt so welcomed at every place we're hosted that it gave us the "appetite" for future trips in Brazil, utilizing Brasil Travel services.
Fazenda San Francisco folks, from the General Manager (greatly accommodating) to the tour guides (what a great wealth of knowledge), the cooks (mmm... the excellent meals) and every single staff member were so friendly that it made it hard for us to depart and continue with our tour. The abundance of animals seen in the Pantanal area and the fact that you get so close to their natural habitat left us astonished.
The Acajatuba jungle lodge was as well 'out-of-the-world' experience; the exquisite location, the guides (we always will remember the very polite, knowledgeable, experienced- Antonio "The Canoe Man"), the interesting tours, and the so friendly and accommodating staff members (always clean room, and again… the 'simple' yet fantastic food).
We also would like to thank the folks that took care of the transportation from and to the airports, the hotels and the various locations; they were there for us during the day or in the middle of the night, always on time … and with a smile on their faces.
Well it took about a week to get back to "civilization" following the great time in the jungle lodge, and one more week to recover from the Emails 'stuck' at the outlook inbox…and now I'm starting to put together those beautiful Brazil memories on a DVD.
Thanks again,
Yehuda Morag, Austin Texas
P.S. – In regards to the small issue with the transportation back to Manaus , I would like to thank you again James for your prompt involvement – I guess that we figured out the source of the problem: apparently there're two Mr. Juao at the Jungle Lode. One is "Big Senior Juao" - the General Manager that was not part of the initial discussion, and the second is "Small Senior Joao" the Reception Manager that had scheduled the "combined land" return at the first day (upon arrival). When we finally met with the General Manager (at the last day, and very short time before our departure), he apologized for the misunderstanding, was very accommodating and made sure that we'll be transported on timely manner.
---
Hello Tatiane
I am very satisfied with our trip and I know that both Erik and Suzana feel the same way. Everything was performed as aggreed, and we had some very good and capable tour guides as well. I know that one of my colleagues is in contact with your company, and I recommend you to everybody that I talk to about traveling in Brazil.
Thanks, and maybe we meet again.
Hans Ole - Denmark
---
Dear James
As the unofficial spokesman for the tour group, I would like to thank you most sincerely for organising a fantastic and memorable trip that all of us will remember for the rest of our lives for the right reasons! It all went extremely smoothly bar the slight hiccup with the guide in Salvador, and we are all recommending Brazil as much as possible so keep a look out for all the Irish business you will be getting as a result! Best wishes
Adriaan Bartels- Ireland
---
Dear James,
Now that I'm back and overcame the jet-lag of "leeping" across half the glob, I and my wife Haya, wish to thank you very much for putting together the wonderful trip we had! I think you have done a great job, were very fare and honest, and - to my mind - you are an exceptional travel agent!! Way to go!
I know all too well that every trip that involves coordination among many operators and different parts, has its "glitches" here and there. I also anticipated (as I have conveyed to you at the time) that in South America things may not work out as in other places... Yet, we have not encountered any major problems, and the very few minor misunderstandings we had did not tint the broader picture of a well orchestrated and executed trip! We have enjoyed it a lot, thanks to you.
I also must say that I'm not in the habit of writing Thank You notes to travel agents - afterall you expect things to work, and you complain when they are not... But, since you were attentive and responsive to correct the issues we raised during the trip, a special Thank You is coming to you.
I will certainly recommend your services to friends!
Ran Lachman- Israel
---
Hi James,
Got back home yesterday and on the top of my "to do" list was to thank you for a perfectly executed itinerary. Everything went as planned, the hotel in Manaus was great, the staff were fantastic and couldn't have done more for us. All transfers to and from the hotel were executed punctually and precisely and always with a smiling face. The same with the jungle lodge, great and very gracious hosts and lots of fun!
All went perfectly and I will certainly be recommending you to friends looking for a Brazil experience. James, many sincere thanks again, we wish you continued success. Regards,
Andy and Gloria - Bahamas
---
We returned home from Brasil last week. I just wanted to tell you that we had a great time and I was very pleased with the way everything went. There was always someone to meet us at each destination, and we were looked after very well by each person right up to the time we boarded the plane or were handed off to someone else. So, the whole thing went off without a hitch. You did an excellent job. Thanks very much.Kind regards,
Bob Buschgens- Doha, Qatar
---
Dear James
Finally I get a chance to write to you about our trip to fortaleza.
I have to thank you because everything worked perfectly, you people were really helpful and nice with us, the hotels and transportation were always on time and confirmed so we didn't have to worry about it.
thanks again for everything, Its been a pleasure to make the trip with your agency.
Veronica Cuellar - USA
---
Hello Tatiane
I want you to know that EVERY single person on our tour felt that the tour was one of the high points of the trip.
Our GUIDE, Sergio, was excellent! His command of English was very good and he knew how to be funny in English, too. His knowledge of architecture, and his willingness to share his knowledge to illustrate the cultural diversity in Brazil was a completely unexpected and pleasant bonus. So, in total, the entire experience was excellent. Thank you for your efforts. I hope you will have no objections when I recommend you and your agency on the internet for superior service.
Jon Avery- USA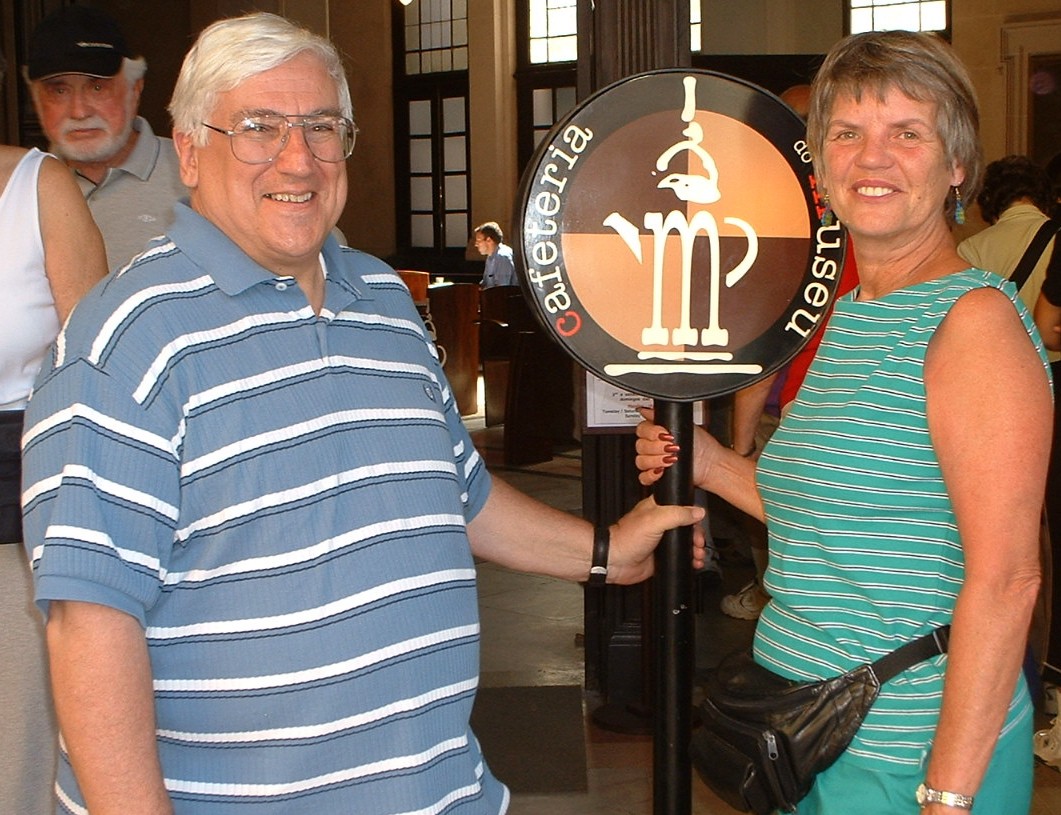 ---
I really enjoyed the trip and thanks again :)
Eunian - USA
---
I have told everyone since I have been back about how awesome the trip was. The jungle lodge was an experience, very basic but it mixed right into the jungle so we had a good time. The staff was great. The pantanal was our favorite and Bonito was also awesome. The guide was great. Overall, the trip of a lifetime.
George Sikes- USA
---
Sorry this mail is long overdue but we are just finishing out travels today so I have not had the chance to thank you.
Our trip in Brazil was excellent. The Pantanal was probably the highlight. The place that we stayed was excellent and we had some great horse riding and other activities.
Everything that you and Sandro organised went very smothly which made our time there even more enjoyable.
Please send my thanks on to Sandro and I hope that you have a great festive season whatever you do.
Neil and Bev. - United Kingdom

---
I am back from Brasil and would like to thank you for the wonderful tour that you organised for me. Tour guides were excellent and the places price hotels and food was just too good to describe.Thanks for the unforgeteble trip of my life. Take care
Rakesh, India

---
We are now safely back from Brazil and we had a fantastic time. Everything went according to plan - no delays or problems with any flights and we were well looked after at all 3 destinations. We were particularly surprised to have both a driver and interpreter in Bonito as well as the usual Portugese guides on each tour - very helpful indeed as so little English is spoken there.
The tours were wonderful and we really enjoyed the Brazilian food (such huge lovely meals and very cheap! - around £3 each usually). I can't believe that we ate massive lunches and dinners every day and didn't put on any weight - must have been all the travelling, swimming and walking
The only thing about the whole trip that was disappointing (and clearly no one's fault) was that Christ the Redeemer was covered in fog when we went there! Oh well - something to see on another trip.... (?)
Thank you so much for all your planning and hard work. I would have no hesitation in recommending Brasil Travel to friends and others. We shall seriously consider returning to Brazil again and we would definitely use your services if we do.
Please let me know if you would like comments on any particular issues and feel free to quote me on your website if you would like.
Best wishes and thanks again
---
Thank You so much once again for all your help. I had a great holiday in Brazil and can't wait to go back. The hotel was just perfect and they were very nice to both me and my family. Location was just perfect.

I don't know when I will be going next time but I would like to go to Florianópolis also. I will keep in touch with you.

Best wishes to you and your family And have a nice weekend
Maria - Denmark
PS enjoy the sun!!! Here it is snowing...
---
Sandro I would like to take this opportunity to thank you for arranging our trip through Brazil.

The Hotels were clean and pleasant. Especially the Bourbon in Iguazu. The transfers were all carried out in a courteous and punctual manner. The trips and show that you arranged was well worth the value.

Thanks Sandro We really appreciated your time and effort. Hopefully I can use your services again when we return to your beautiful country.

Thanks

Kelvin - United States
---
We really want to thank you for your valuable help with the travel arrangements and all the information as well.

We had a wonderful time in Floripa (the people who did the transfer were of great assistance and very kind and helpful). I have already recommended you and Brasil Travel to some friends who are thinking of traveling to Brasil in the near future.

Thank you so much!!

Jana & friends

- United States
---
Thank You for everything You did for us. It was really pleasure to work with You. To say honestly we were a bit afraid when decided to organize our trip in such a distant lands by ourselves. And we are glad that we found You.

Thank You.

Kate. - Saint-Petersburg - Russia
---
Your kind attention to our many emails was greatly appreciated. You and Hugo made the trip for us VERY SUCCESSFUL. There were many points of interest that we were glad to have seen, and the information that Hugo and you shared with us made it very interesting and informative. Your kindness, sense of humor and enthusiasm made a lasting impression on us. Thank you very much!
Andrew & Terri Jaroszonek
- Canada
---
We cannot fault the organization of this holiday. Brasil Travel did a wonderful job with all of the arrangements and everything went according to plan........
Judi Millage - United Kingdom
---
All your arrangements were excellent. We have recommended your name
to our friends and to the Brazilian Consulate in India, and the Indian
Ambassadors in Argentina and Brazil. We will be happy to interact with
any of your clients who need a recommendation and comments......
Bindu - India
---
I have to say thank you very much to Brasil Travel. It was excellent service and we enjoyed our holiday very much. There are no words we can use for it. We hope there will be time to come back. We already told our friends about you and I think that the first one would like to come in January.......
Denisa Tylsova - Russia
---
Just thought I would say thank you for your excellent arrangements - I really did enjoy the Amazon and Foz trips. Everything went well - I saw and learnt a lot.
The falls at Foz were quite full and the weather was fine the entire time I was there - so really lucky.
Looking forward to editing my video in a few weeks time.